We'll Take Your Furniture!
|
Hi Friends! Moving out? Doing some Spring Cleaning? Going to any yard sales? If you find you have extra gently-used furniture, dishes, blankets, or other household items, you can donate these things to Global Connections to benefit new international students and families coming in the Fall. It means so much to have help getting settled in a new country. Together we can help others feel at home!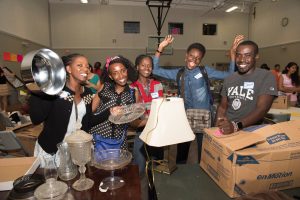 A few guidelines to keep in mind:
We only can only accept in-good-shape, clean, & well-maintained furniture and household items.
We require at least a week's prior notice since we rely on GC Volunteers, and they have jobs, families and other commitments.
Once a date/time has been selected that works for you and the GC Volunteer for the donation to take place, it cannot be changed at the last minute.
We cannot accept the following: large desks, TVs (unless they are digital, high-definition TVs), heavy or hide-a-bed or Lazy-Boy couches, and computers or printers.
Please contact your GC Partner Representative for information on how to get your donation to our storage units, or you may contact Steve Baney at sbaney@globalconnectionsbg.org.
For more information about donations, click here: http://globalconnectionsbg.org/donors/