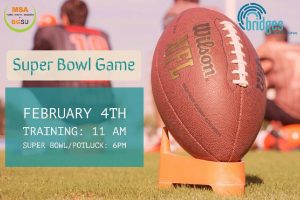 Have you heard about the Super Bowl?
For many Americans, it's a big deal. It's the National Football League (NFL) championship game. This year the Eagles face the Patriots on February 4 at 6:30 pm. It's frequently called the "Big Game."
In addition to an exciting game of American football, companies pay millions of dollars to have their commercials play during the breaks. Because so many people watch the game, they'll include some strange, funny, and exciting commercials. This year the game will be shown on NBC.
During half-time, there will be a performance of dance and music from Justin Timberlake.
Don't understand the game yet? That's okay. Thanks to our friends at Bridges and the Muslim Student Association, you're invited to a football clinic for training. You'll learn the rules and have a chance to play at 11:00 am in Eppler South second floor gym.
Then join friends from around the world to watch the Big Game at the BGSU Alumni Center at 6:00 – 10:00 pm. Bring food to share!
To register for this event
, email the number of people coming with your group to Rob Froman (
robert.froman@yahoo.com
) today!