Join us for some fun field trips this summer!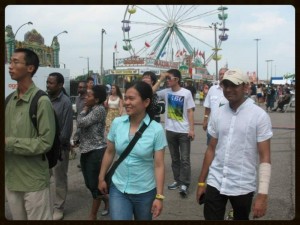 * Cedar Point-5/16, 9am-9pm
$37* 48″ and up; $34* under 48″ & Seniors (62+); Free* 2 and under. Contact Mallory by 5/6 to reserve your ticket.
* Grand Rapids, OH-6/7, 10am-4pm
$6* Adults; $5* Seniors (60+); $4* Children (3-12); Free* 2 and under. Take a ride on a mule-drawn canal boat and a tour through The Isaac Ludwig Mill! We will spend some time walking around town and ending the day at Rita's Dairy Barn with ice cream! Bring a packed lunch.
* Ann Arbor, MI-6/21, 9am-6pm
Let's explore Ann Arbor, MI! We will start the day in Kerrytown full of shops and a Farmer's Market. Lunch will be at Zingerman's ($12-$15). You will then have time to explore the University of Michigan and Downtown Ann Arbor.
* Port Clinton, OH-7/26, 9am-5pm
We will start off the day driving through the African Safari Wildlife Park ($12) where you will have the chance to pet and feed exotic animals! We will head towards Lake Erie and have lunch at Dock's Beach House ($10-$15). After lunch, we'll head to East Harbor State Park (FREE) to check out the Marblehead Lighthouse and experience Christmas in July!

Costs do not include spending money. All trips are kid friendly. Contact Mallory to save your spot on these trips.